Winstanley is a rapidly improving school
This year sees another set of great GCSE results for our school. We have continued to invest heavily in our Maths, Science and English provision which has once again seen improvements in key results. 
Success has been seen in a variety of different subjects. Combined science results have seen a large boost with Winstanley students achieving in line with national figures in all measures. 
The percentage of students receiving a standard pass (4 or above) in English & Maths continues to reflect the rapid improvement in the quality of learning and teaching at the Winstanley School.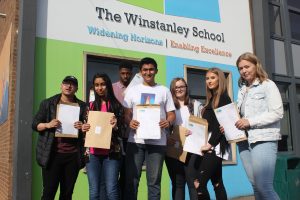 Maths results continue to be solid, and in line with national figures, with 58% of students received a grade 4 or above and 31% of students receiving a grade 5 or above. The percentage of students receiving grade 7 or above has doubled in the last 2 years.
Winstanley has also seen success in our Ebacc subjects. Our triple science students continue to see success this year with 100% of students passing all of the triple science. 
Geography saw more students than ever receive a grade 4 or above along with our PE dept who saw yet another year of great results with 62% of students receiving grade 4+ and 52% receiving grade 5+.
History saw improved results this year with the number of students receiving the top grades increasing. 
Improvements were also well received in some of our creative subjects with Art increasing the percentage of students receiving grade 7 or above
Hospitality & Catering BTEC results saw another improvement with more students than ever receiving Level 2 distinctions. 
Progress 8 for 2017/18 at the Winstanley School was -0.76. 
You can find more information regarding our 2018/19 GCSE results by following the link below :