What are they?
Students can sign up for instrumental lessons in piano/keyboard, guitar (electric or acoustic), bass guitar, drum kit, violin, or viola. Students will learn both the practical and theoretical aspects of the instrument. Once students are confident and able they will have the opportunity to complete graded exams as well as performing to audiences. 
What are graded music exams?
Graded music exams (grades 1-8) are qualifications which help track progress when learning an instrument. To achieve a grade students have to demonstrate they have completed the syllabus and met the standard (pass, merit or distinction) for that grade. Whilst there are no requirements to take graded music exams, grade 6+ exams have UCAS points which adds credits towards future university applications via UCAS.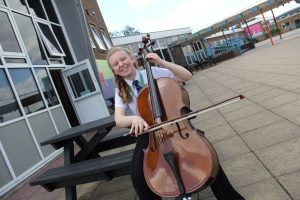 Who's invited? 
All students are welcomed and encouraged to learn how to play an instrument. Lessons can be paired (providing there is another student requesting a paired lesson) or solo, except for piano and drum kit lessons which are solo lessons only. All students learning an instrument are invited to join our school orchestra to gain extra experience as musicians, which is free. The orchestra performs regularly and goes out on trips to watch and perform music.
How much do they cost and how do I pay?
Lesson fees are paid in our sQuid app. The Winstanley School subsidises 50% of lesson fees for students in receipt of Pupil Premium. This option is labelled as PP in the sQuid payment options. All lesson fees can be paid weekly, or add multiple weeks to your basket for monthly or termly payments if that suits your household's budget better.
Please note; if fees are more than three weeks in arrears, then the school may pause lessons until fees are paid.
Piano/keyboard: £12 for 20 minutes solo (£6 PP)
Guitar: £15 for 30 minutes solo (£7.50 PP)
Guitar: £7.50 for 30 minutes paired (£3.75 PP)
Bass guitar: £15 for 30 minutes solo (£7.50 PP)
Bass guitar: £7.50 for 30 minutes paired (£3.75 PP)
Drum kit: £15 for 30 minutes solo (£7.50 PP)
Violin: £15 for 30 minutes solo (£7.50 PP)
Violin: £7.50 for 30 minutes paired (£3.75 PP)
Viola: £15 for 30 minutes solo (£7.50 PP)
Viola: £7.50 for 30 minutes paired (£3.75 PP)
Venue
All lessons take place in the Music Practice Rooms.
Time
Lessons are weekly and take place during lesson time. Students will be advised of their lesson time by their instrument tutor. Every effort will be made to rotate lesson times so that students do not miss the same curriculum lesson each week – however this is limited by how long the visiting music tutor is on site.
What about instruments?
Students should have their own instrument so that they can practice between lessons. For a small fee instruments can be hired from our local music service, and there is no hire fee for students that have Free School Meals.
Please follow this link to hire an instrument from Leicestershire Music. 
We can also offer help with purchasing an instrument – find out more about the Assisted Instrument Purchase Scheme.
Contact and signing up
Please return a signed letter to reception in order to sign up. You can collect a letter from reception, or print a copy from here Music Lessons Letter 2022. 
You may be added to a waiting list if there are no spaces available.
For more information or support in signing up for instrumental lessons, please contact Mrs Olner – [email protected]
Missed Lessons and Cancellations
If your child is going to be away from school because of a school trip please contact reception in advance with a list of date(s) affected. If your child is absent unexpectedly due to illness, then a message to reception is always appreciated as this helps lessons to run more smoothly.

To cancel lessons please contact reception or Mrs Smailes on [email protected] – 4 weeks notice is required before lessons may cease. However, if there is a waiting list then they may be able to stop sooner.