After two years of unprecedented disruption to their education Winstanley students have beaten the odds with some amazing GCSE results. Their resilience and determination has really shone through, they have supported each other, worked hard, demonstrated their ability to work independently at a crucial stage of their GCSE courses and have never given up despite the uncertainty surrounding exams to enable them to achieve excellence.
Staff at the school have been thoroughly impressed with how this group of students has overcome the difficulties experienced in these important years of their education, and this year group particularly have has been severely impacted by the pandemic, with schools being closed for roughly a third of their GCSE course. Students and parents feel that they have been well supported by teachers and staff at the school who have ensured that students have received high quality 'live' lessons throughout the recent school closure, and ensured that all students had access to the internet and a laptop to enable them to access school from home. Students were able to follow their usual timetable with their own teachers to provide continuity at this important time.
When it came time to decide on the teacher assessed grades, students were given the opportunity to sit checkpoint assessments for each subject to help show what they were capable of and demonstrate their hard work over the difficult period of the last 2 years. These checkpoint assessment results were used , along with other evidence such as mock exams and in class assessments, to decide the grade teachers will be awarding.
Each checkpoint assessment was carefully created and administered to ensure that the marking and grading criteria stringently matched that of exam board guidance.
This grade was then subjected to quality assurance both in school and by external exam boards. Each grade was checked and the pieces of evidence evaluated to ensure that every grade that we awarded in school was a fair representation of what our students deserved .
Each teacher , head of department and our assistant head of school worked tirelessly to ensure that the grades we issued were evidence based, robust and fair.
We are pleased that so many of our students have managed to "SHINE brighter than they thought they could" in such disruptive and unusual circumstances.
Headteacher of the school, Dave Bennett said:
'These grades are a real tribute to everyone in the Winstanley Community. Staff and students have worked incredibly hard to ensure that despite all the disruption caused by the pandemic the students have gained great results.'
Some outstanding successes were:
Rahul – got all 9s, and was shocked and pleased, he's not sure about his next steps but his results will allow him to progress on to whatever he chooses.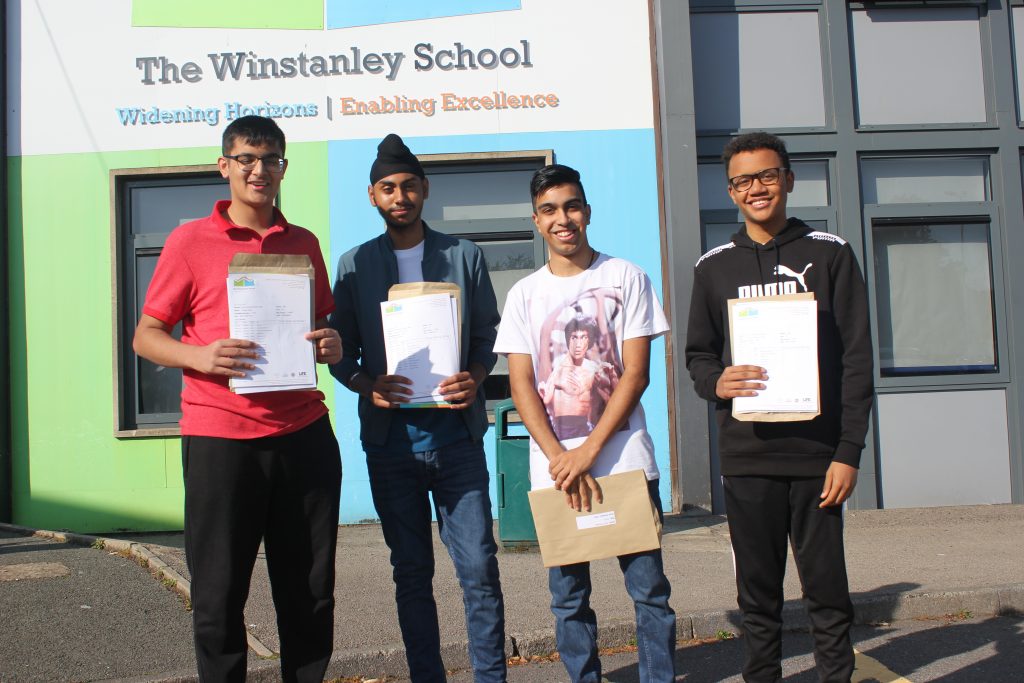 Isha – Got all 9s and an 8 for French and is looking forward to starting A levels in her favourite subjects.
Ashley – Was thrilled to get a 9 in Music which has been his passion throughout his time at Winstanley. He also got 9s, 8s, and 7s in his other subjects and is looking forward to starting A Levels at Bosworth Academy.
Khalid U – Was shocked w
hen he opened his results to find out that he had 11 9s and an 8 in Further Maths, he said that his hard work and determination really paid off. Khalid's Mum said that she was incredibly proud of him, he has worked really hard and thanked staff at the school for their support and dedication.
Proud Mum Amy was thrilled with Kian's results and the resilience he has shown following the tragic death of his Dad during the GCSE assessments. She praised the school for all the support they have given the family and especially Kian during this difficult and upsetting time. Kian is now looking forward to being able to accept his place at college to study A Levels.