Applying for a school place 
If your child is due to start Year 7 in August 2024 the deadline for admissions is 31st October 2023. You will need to apply for your place via the Leicestershire County Council Website, which you can reach using this link – LCC Apply for Secondary School.  If you live in Leicester then you will need to apply through Leicester City Council but you can still select The Winstanley School from the list of schools – you can find this information on the Leicester City website.
There is currently a huge demand for school places and it is advised that you select more than one school when applying in case your first choice school does not have places, especially if that school is not your nearest.
About Winstanley
The Winstanley School is a small school of 600 students at the heart of the Braunstone community. Nearly all of our students live close enough to walk or cycle to school. Our school is a big family where everyone is known personally.  We see ourselves as a 'gateway of hope' where every member of our school community can achieve, develop and excel irrespective of their starting point.  Students at Winstanley experience inspirational teaching, dedicated personalised support, learn clear values and become fantastic citizens who will make a positive difference in the world.  Our school is growing into a beacon of inclusion, aspiration and social justice.  Student leadership is at the heart of our work and students have the opportunity to lead in a wide variety of ways as Prefects, House Leaders, Well Being ambassadors, Stephen Lawrence Ambassadors, Leicestershire Citizens and many more. Our new house system means that everyone knows that they belong, is rewarded for their achievements and has the opportunity to take part in a wide variety of extracurricular activities.  The whole community makes sure that we challenge each other to be the best that we can and support each other to make sure everyone is included.   This is summarised by our vision:  'shine brighter than you thought you could.'  The school's SHINE values are at the heart of everything we are and do – S – supporting others, H – hard work, I – independence, N – never giving up and E – excellence.
Prospectus
You can view our latest Prospectus here, or alternatively, we can post one to you, please email – [email protected] leaving your full address.
Further Information
Our current admissions limit: 600 pupils.
Feeder schools for Winstanley are;-
Fossebrook  Primary School – Holmfield Ave W, Leicester Forest East, Leicester LE3 3FF
Millfield Primary School Hat Rd, Braunstone Town, Leicester LE3 2WF
Kingsway Primary School – Kingsway N, Braunstone Town, Leicester LE3 3BD
Ravenhurst primary school – Ravenhurst Rd, Braunstone Town, Leicester LE3 2PS
Arrangements for admissions and handling expressions of preference by parents are made through the Leicestershire Education Authority on behalf of the school.
Please click here to view the admissions policy for entry in August 2024
Please click here to enter the Leicestershire County Council admissions page
Catchment Area Map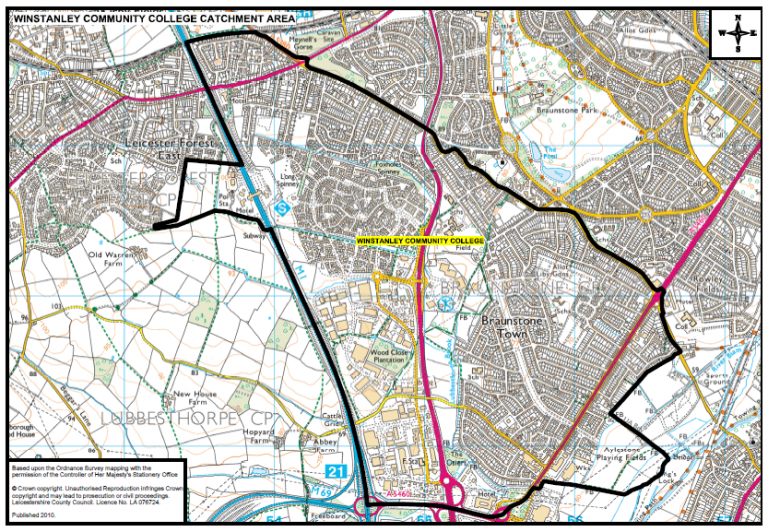 Edit